Well it is that festive time of year again when we all get together in the season of goodwill, peace and understanding. We pass on presents, words of love and affection, and germs. Most years after the start of January we are all suffering colds and flu from too much mingling over Christmas. Whilst I love a good mingle as much as the next man or woman (oooh Matron!) and have learned to accept the post festive bugs as normal, this year I'm mingling at home. Yes I will celebrate and I might end up playing sardines in the wardrobe with Mrs Hope and the dog, but whatever curious advice we may be given from a collection of idiots in Downing Street we are avoiding everyone.
Mind you on the fishing front we are still allowed to go. Which is great as long as it stops raining. Apparently there is a vague chance it might do so in the run up to Christmas but for the last few weeks we have seen little other than grey skies and rain. Having said that we did have some fabulous sepia toned Autumn days. The overcast ones with little wind when lakes reflect back that old oak bronze, of tired leaves reluctant to let go their tree and the year. It was like that the other Thursday when Andy Mac and I went out for a look on Esthwaite. My last visit was over twenty years ago and it has changed. Clean, well maintained electric boats and a good welcome from Jim the fishery manager. A days fishing might not be cheap but it is a good set up. We arrived before daybreak and were amazed at the number of other anglers already unloading in the car park. As a slow grey day arrived we set out onto a flat and windless lake to join the other ten or so boats looking for monsters. Without exception they were all sitting at anchor waiting for Mrs pike to drift by but with little obvious activity, Andy and I decided something different might give us a better chance.
Three hours later we had both had a Jack pike apiece then things changed. On the far edge of a deep area well away from other boats Andy had a pick up. As I cleared the other rods out of the way and set up the landing net, Andy looked across at me and commented,
" At least this ones not a jack"
And it wasn't.
Some fish turn out to be more significant than the moment of meeting suggests. This was one of them. So if you are a pike angler reading this, Happy Christmas and may the new year bring you good fortune in the shape of a blonde beauty like Andy Macs 27.6 Christmas present from Esthwaite in the picture below. We are still grinning!
Apologies if you have read these pages and tried to contact me via the web site. I found out today the link was not working!!  Its not that I'm avoiding folks just a technical hitch that is now sorted but it means my christmas gift vouchers might still be waiting and some unfortunate angler gets more socks rather than a day out with me. Phew, a close shave for someone!
Stay safe and well, avoid indoor crowds and happy Make the best of it Christmas. I'll see you in a hopefully better New Year.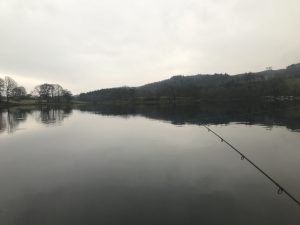 Tarra,
Eric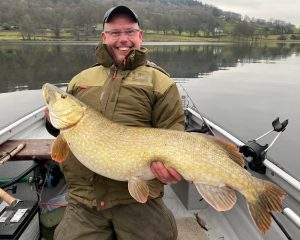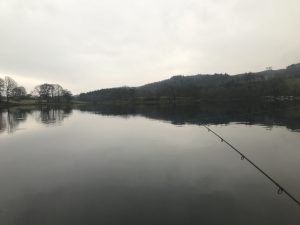 Going Back