I am writing this at the beginning of the second lock down in a very strange year. Can we still go fishing? "Yes" says the goverment and "Yes " says the Angling Trust who I believe more than our glorious members of Parliament. So I shall continue to go fishing. Unfortunately, with the weather over the past few weeks having been so utterly horrible I don't really want to go and sit out in foul conditions on the lake looking for fish that have been switched off feeding by incessant rain and bad weather. I might have a look for a few chub or grayling though if the rivers drop in far enough to be fishable.
The Beagle came off Windermere this morning and thats it until next February when we will be back down there agin in search of monster pike. We had a few good ones this autumn when the weather was kind- Phil Done had his first 'twenty' with a 21+ on a deadbait early one morning but we were distracted by catching some of the large numbers of roach and bream that now inhabit Windermere. Vertical quiver tipping in 30′ of water is the way forward folks!    It's easy and hugely entertaining. Drop a swim feeder full of groundbait and maggots over the side with a pike rod, shake out the contents and do it again- several times! Then fish a small ledger with a two foot hook link and a pair of maggots, sit back and have faith. Twitch, twitch on the tip, then it pulls over and another 'nodder' comes to the boat. These bream are not the hardest of fighters but bringing them up from thirty feet down they fight a bit like plaice or flounders, nodding their way to the net. With a pair of pike rods out at the side (just in case you understand!) they provide a lot of fun. No monsters yet but they will come in time. Phil and I had a couple of days of fifty fish and all looked like they had never been caught before. What the pike make of these new arrivals into their world remains to be seen but with shoals a hundred yards long showing on the sonar it's only a matter of time before mr and mrs pike start packing on a lot of weight.
On a different topic we have had a better salmon season this year than for a long time. Another Dunne- Mick,  and I had a day on the lower Derwent where we saw dozens of salmon running home and though we only managed to land  a couple we both lost fish as well. To see so many fish running though was just like dropping back in time to twenty years ago when the rivers were full of salmon. Other rivers have also fared very well with anglers on the Eden having had the best season in ages and it all bodes well for the future.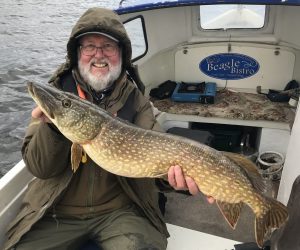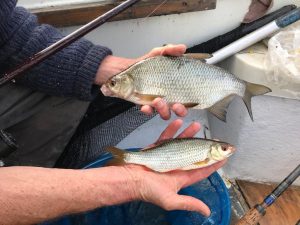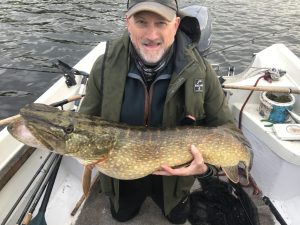 Meanwhile here in the rod room, I'm finishing the long awaited book and getting ready for delivering a talk at this years Kendal Mountain Festival and it comes with a chance to win a free day out with yours truly!l!
Yes, the organisers have asked me to do a virtual presentation about some of my adventures. Apparently the world has just dicovered that being out in the natural world is good for our mental health and well- being. Strange that sitting quietly and pondering is suddenly classed as a good thing. Being the moment and all that. Minfdulness some folks call it…and some of us have been doing it for years!
Just that we call it fishing..and it is still the best way of appearing busy whilst doing very little. Personally I am a fully paid up member of the club but as many of my friends would testify, I need to get out more!
Stay safe and well and we'll see you on the water one of these days.
And for those who are unable to sleep or just wish to know a little more Visit:  Kendal Mountain Festival, check out the whats on button, then scroll down past the pay site presentations to Yeti Everyday Adventures. Somewhere on there you should find the interview.
Tarra,
Eric