Autumn update
October 26th, 2009
Autumn- Stunning scenery, gales galore, leaves in the rivers making fly fishing horrible, lots of good pike feeding, some great salmon on the last day of the Eden season and some cracking Grayling. All this and the best of the years pike fishing coming up…. Before that though a quick update. Had a day on the Tweed last week but as fresh salmon are in short supply everywhere this year I was easily tempted by the sight of a load of grayling feeding hard on pale watery duns drifting down. On with a #16 Half Arse, roll it in my fingers to straggle it and up comes a nose, slurp, and after a great scrap get this one to the net. Not sure of weight but along with a dozen more was very welcome on what would otherwise have been a hard day. After that back to the Lakes and a few pike including a couple of better fish to Zack Barrett on static baits. Meanwhile Bob day checked out a new beat on the Annan and had two sixteen pounders. Two miles above the tide it is high on the list for next year as it stays open till mid November. Ordinary mortals have to suffice with local rivers but three salmon in a day on the Eden made for a good end to my Eden season. I'm having a look at the Nith in November looking for a late run biggie then of course it is the Back End and some proper pike fishing in the run up to Christmas.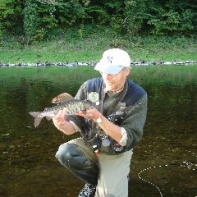 Tweed Lady
Leaping Pike Bennet Hogg on the other end!!
Endangered species???