Fishing in Cumbria
Cumbria is a world class destination and the fishing is as good as the views. With a wide range of options we know which waters are fishing best and take great delight in providing world class angling experiences. In recent years we have caught many big pike over the magic twenty pound mark and some beautifully marked specimen perch to over four pounds. Big trout also put in regular appearances and are an exciting addition to a days fishing. Most of our local rivers have good numbers of wild brown trout with salmon and sea trout showing up from summer onwards.
Pike and Perch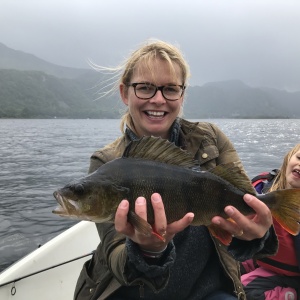 Based near Keswick in the beautiful English Lake District we have access to some world class pike and perch fishing. Typically we explore the lakes from one of our boats using a variety of different techniques including fishing trolled and static deadbaits, a range of lures and of course... some amazing pike fly fishing. The best lure-caught pike last year was 26lb, caught on a Pool Cue Baby and an average day tends to see up to a dozen fish coming to the boat. Safe handling is encouraged and we take great pride in returning fish to the water in pristine condition.
Local perch fishing is really superb and the ideal way to introduce youngsters of all ages to the joys of angling. Large numbers of quality fish inhabit our lakes, and monsters apart we get lots of two pound perch on trundled worms, while the delights of watching a red tipped float dip, bob, then slide away has a timeless appeal. Parent and child days are very popular and a great way of spending a summers day.
During the Autumn and Winter months we tend to bait fish for the bigger pike down on Windermere, from the Beagle, our 16 foot Orkney which has a cabin for shelter and the kettle is usually on. On average we boat around four or five pike per day and each season sees us meeting several fish well over the magical twenty pound mark. A civilized day's Winter pike fishing which for sheer relaxation, enjoyment and satisfaction takes a lot of beating.
Salmon
North Cumbria is justifiably and historically famous for the quality of its game angling. Atlantic Salmon and Sea Trout run the rivers in large numbers from July onwards and we have access to prime exclusive water on the Eden and Derwent. Although by preference we are fly fishermen we also fish bait and spinners when appropriate and catch and return a lot more than our fair share of fish. We know which waters are fishing well and you, the visiting angler reap the benefit.
We offer casting tuition with the double handed rod including traditional spey casts, snake rolls, snap 'T' and all the fancy stuff, including modern underhand style casting using the latest Guideline equipment, as well as practical salmon fishing techniques. With many years of successful salmon angling under our wading belts we can help you make the most of this fascinating sport.
Trout and Grayling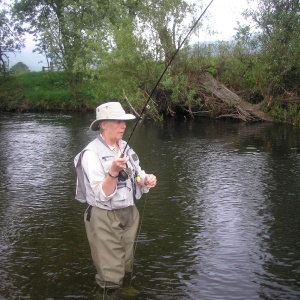 Cumbria has some truly superb wild brown trout fishing on mountain lakes and rivers.
The world class fly fishing for trout and grayling fishing on the Eden and its tributaries probably needs no introduction and we have fished it since childhood. With plenty of fish around the pound mark, multiple fish days are the norm, but we have had trout to over four pounds as well as some great winter grayling up to the three pound mark. With access to stunningly attractive, exclusive water most days we have the rivers to ourselves and enjoy some marvellous days on this great river.
While the Cumbrian Derwent is thought of primarily as a salmon river, in its higher reaches it offers some great trout fishing. The Keswick area offers some excellent fishing and a guided day can give the visiting angler a good insight into our local waters. Between the two lakes of Bassenthwaite and Derwentwater, the river flows steadily with good runs and pools holding some very large trout indeed as well as enough medium sized fish to keep any angler happy. The Greta provides some superb dry fly fishing in tumbling boulder strewn water in an area of stunning scenery with fishing to match. We also offer hike out visits to the more productive mountain tarns, which in the height of summer offer some great trout fishing when other lower level lakes are struggling. As with most of our trout fishing we lean towards catch and release although we do invite the occasional trout home to supper.