Thank Heavens for Lake District Perch Fishing
August 20th, 2010
Well, its the dog days of August and the trout and pike fishing is a bit on the slow side. That's not to say we aren't catching fish but we are having to work hard to get any decent ones. No doubt the next month will see things switch on again as the fish begin to feed up in earnest before winter. On the bonus side, the perch fishing has been great with plenty of real 'weighed in a bag' two pounders and a couple of bigger ones as well. Dave Dykes had a couple of grand ones on the trundled worm while yours truly had a cracking 3lb 4oz fish from one of the usual larder areas. These summer fish offer superb sport and put up a fantastic scrap with lots of head shaking and runs for cover. I know I have said it before but when I get too old to wave a salmon rod around, I'll do a lot more tench and perch fishing…cos it is just great fun with lots of activity and beautiful fish. Speaking of which, Matt Healey and I went fishing for Char on Crummock water the other day and although we only managed a few before the lure of fly fishing for pike took over, they provided a rare treat of a meal when smoked and served up with new potatoes. It's not often I eat any fish we catch but these were absolutely delicious and all that remained afterward, were a couple of cartoon fish skeletons. And as I write this it's raining hard which means I shall be out with the Guideline salmon rods again when I get a free moment. I have been busy working on the Scandanavian underhand casting technique recently and the shooting head stuff is very impressive. With the multi- density lines and long leaders I feel very confident about getting more than my fair share of fish over the coming Autumn.
As always I'll let you know.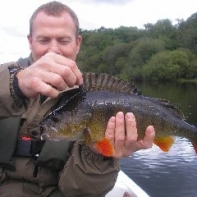 Dave Dykes with a first cast two pounder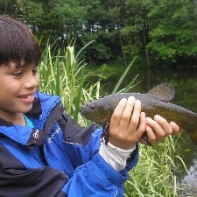 I forgot to mention Darryl and Tench...so...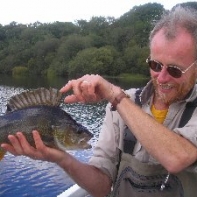 Another Lake District Perch