MERRY CHRISTMAS and a FISHY NEW YEAR
December 17th, 2011
Well its that time of year again, when the shortest day is almost upon us and all is more or less safely gathered in (except the Doghouse waiting down on Bassenthwaite) and apart from a few hardy souls we are battening down the hatches for a well earned rest for a week or two. The autumn fishing was not quite what we had hoped, ask Bennet Hogg who braved the elements one day when the boat had two inches of snow on board and we packed up shivering and biteless. All was redeemed when a late flourish on Derwentwater saw those two trusties Andy Mac and Captain Nichols out on a cold day in the big boat having some great sport with a six fish session including some superbly conditioned specimens up to around fourteen pounds or so. A toast to the years fishing seemed most appropriate…so we did. And it seems a suitable moment to wish you all the very best in these difficult days. Take care, enjoy the season of goodwill and hopefully we'll see you all next year for some more great fishing adventures.
MERRY CHRISTMAS AND A PEACEFUL NEW YEAR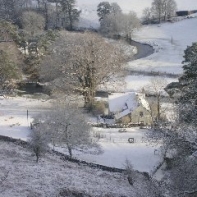 T'was the week before Christmas...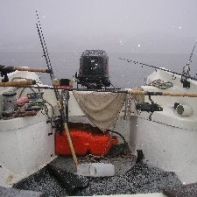 Too cold to tidy up. Dec 2011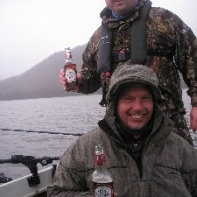 Cheers